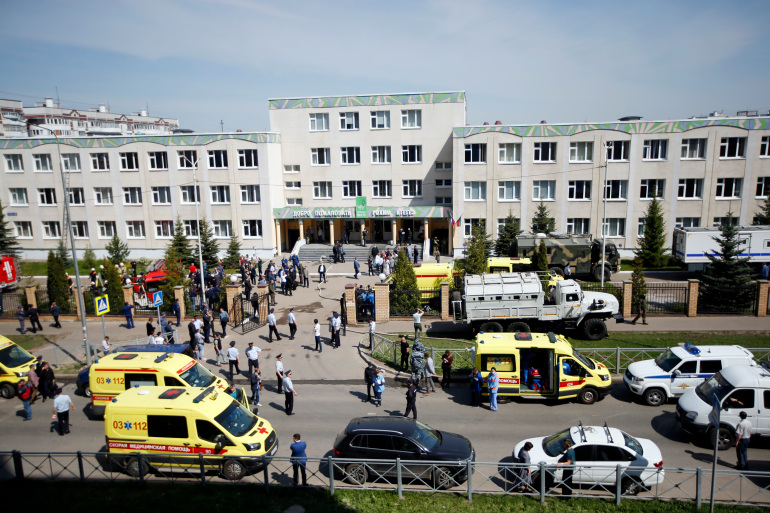 Several children killed in Russia school shooting
By Al Jazeera
At least nine people, including seven children, were killed on Tuesday morning after a lone teenage gunman opened fire at a school in Russia's southwestern city of Kazan, local authorities said.
Four boys and three girls were among the victims, said Rustam Minnikhanov, head of the Tatarstan republic, of which Kazan is the capital.
He said the children were in the eighth year of school, which in Russia would make them about 14 or 15 years old.
A teacher and another school employee were also killed.
At least 21 others were hospitalised with wounds, including 18 children, according to local authorities. Six are reportedly in intensive care.
The attacker, identified only as a 19-year-old, was arrested, officials said. They gave no immediate details on a motive.
But Russian media reports said the gunman was a former student of the school who had called himself "a god" on his account on the messaging app Telegram and promised to "kill a large amount of biomass" on the morning of the shooting.
'People are hysterical'
Tuesday's attack began at around 9:30am local time (06:30 GMT).
As gunshots sounded out, two children could be seen leaping from the third floor of the four-storey School Number 175 in a video filmed by an onlooker.
Footage released by Russian media also showed students running out of the building, and multiple emergency service vehicles gathering at the scene.
Witnesses offered chilling accounts of the tragedy.
"We heard the sounds of explosions at the beginning of the second lesson. All the teachers locked the children in the classrooms. The shooting was on the third floor," said one teacher, quoted by Tatar Inform, a local media outlet.
Elena, a Kazan resident who said she was outside the school, told the Echo of Moscow radio station that police were clearing people from outside the premises.
"Parents are crying," she told the radio station. "People are hysterical."
'Investigation is under way'
Russia's Investigative Committee, which investigates major crimes, said in a statement it had opened a criminal case into the shooting and that the identity of the detained attacker had been established.
Footage posted on social media showed a young man being pinned to the ground outside the school by police officers.
"The terrorist has been arrested, (he is) 19 years old. A firearm is registered in his name. Other accomplices haven't been established, an investigation is under way," Minnikhanov said in a video address.
He added there was no evidence that anyone else had been involved.
State TV later broadcast a separate video showing what it said was the suspect, a young man stripped to the waist and under restraint, being questioned by investigators.
He could be heard saying that "a monster" had awoken in him, that he had realised that he was a god, and had begun to hate everyone.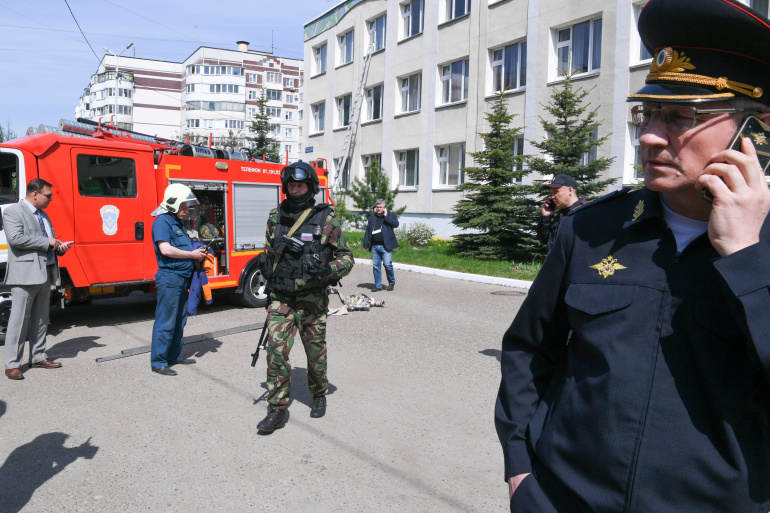 Putin orders review of gun laws
Russian President Vladimir Putin expressed his condolences to the families of the victims and wished a speedy recovery to the wounded, ordering the government to give them all necessary assistance.
The Kremlin sent a plane with doctors and medical equipment to Kazan, and the country's health and education ministers also headed to the region.
Putin also ordered Victor Zolotov, head of Russia's National Guard, to revise regulations on the types of weapons allowed for civilian use in light of the attack.
Russia has strict restrictions on civilian firearm ownership, but some categories of guns are available for purchase for hunting, self-defence or sport, once would-be owners have passed tests and met other requirements.
Zolotov was expected to urgently look into the status of weapons that can be registered for hunting in Russia but are considered assault weapons elsewhere.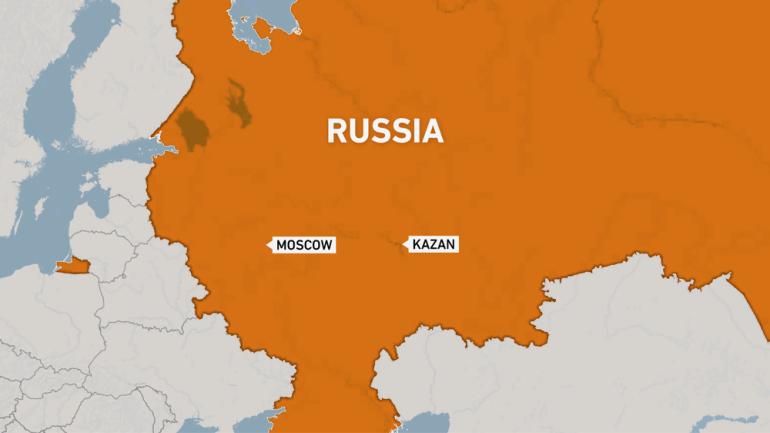 The suspected attacker had been issued a permit for a Hatsan Escort PS shotgun on April 28, Alexander Khinshtein, a legislator in Russia's lower house of parliament, wrote on social media, without providing further details.
Khinshtein also said School Number 175 had no security aside from a panic button.
Local authorities meanwhile announced a day of mourning on Wednesday and canceled all classes in schools throughout Kazan, a city home to about 1.2 million people which sits roughly 800 kilometres (500 miles) east of the capital, Moscow.
School shootings are rare in Russia.
Tuesday's incident was the deadliest of its kind in the country since a student at a college in Russian-annexed Crimea killed 20 people before turning his gun on himself in 2018.
SOURCE: Al Jazeera