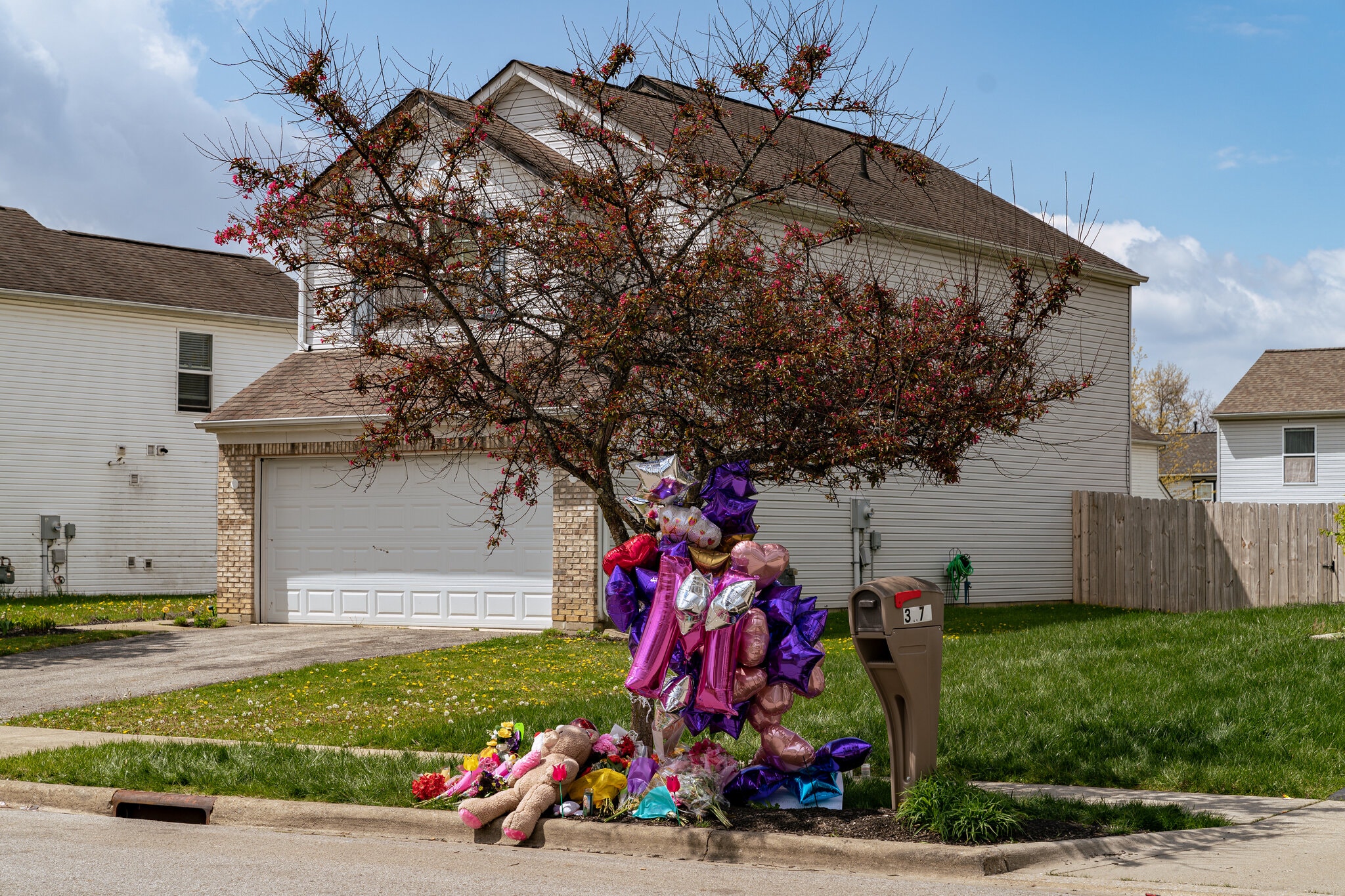 Ma'Khia Bryant's Journey Through Foster Care Ended With an Officer's Bullet
By Nicholas Bogel-Burroughs, Ellen Barry and Will Wright
COLUMBUS, Ohio — The voice on the 911 call is a teenage girl's, and it is quavering, as if she has been crying.
"I want to leave this foster home," she tells the dispatcher. "I want to leave this foster home."
When two police officers arrived at the home in Columbus, Ohio, they reported later, they met an agitated ninth grader, Ja'Niah Bryant, who told them that the fighting at 3171 Legion Lane was getting worse and worse.
They said there was nothing they could do, and this seemed to push her over an edge. She became "irate," the officers wrote in their report, and told them that if she was not allowed to leave, "she was going to kill someone."
Twenty-three days later, Ja'Niah called 911 again, telling the police that she and her older sister were being threatened by two young women who used to live at the house. Officers arrived in the middle of a melee outside the house, and one of them fatally shot Ja'Niah's 16-year-old sister, Ma'Khia Bryant, who was lunging at one of the women, brandishing a steak knife.
The shooting, which occurred moments before a jury in Minneapolis convicted Derek Chauvin of murdering George Floyd, released a new wave of anger over shootings by the police. To calm the furor, the Columbus police quickly released body camera footage, which showed some of the fight outside the house and, they said, demonstrated that the officer had acted to protect the other woman.
But Ms. Bryant's tragic death was also preceded by a turbulent journey through the foster care system, which had cycled Ma'Khia through at least five placements in two years — after her own mother was found to be negligent — despite efforts by their grandmother to reunite the family.
Ohio places children in foster care at a rate 10 percent higher than the national average, and child welfare officials here are considerably less likely than in the country as a whole to place children with their relatives. Black children, like Ma'Khia and her sister, account for nearly a third of children removed from homes — nearly twice their proportion in the population.
A review of Ma'Khia's pathway through foster care shows that it failed her in critical ways.
Research has demonstrated that children fare far better when they remain with family members, a practice known as kinship care. It also shows that each successive placement causes additional trauma, further setting back a child in crisis.
"Everybody knows and the research has proven over and over and over again that the best placement for children is with their kin," said Ronald R. Browder, the president and chief executive of the Ohio Federation for Health Equity and Social Justice. "But the focus has always been on foster care."
What the Bryant sisters wanted, Ja'Niah said, was to return to their family.
"We can go to Mommy or Grandma, it doesn't matter, as long as we can get off the system," Ja'Niah recalled Ma'Khia telling her younger siblings, who were also in foster care. "That was her biggest thing, she didn't want to be in the foster care system until she was 18."
A spokeswoman for Franklin County Children Services, which had custody of the siblings, declined to comment on Ma'Khia's case, citing confidentiality laws. Angela Moore, their foster mother at the time of Ma'Khia's death, talked about the teenager and the events leading up to her death but did not respond later to detailed questions about the Bryant girls and their care.
This account is based on interviews with Ma'Khia's family members and acquaintances, as well as court documents, and other case records that were provided by her mother's lawyer.
The oldest of four children born to Paula Bryant, a nursing assistant, and Myron Hammonds, Ma'Khia was removed from her mother's home in 2018, and spent 16 months living with her grandmother Jeanene Hammonds.
When her grandmother was kicked out by her landlord, the siblings went into foster care and spent two years cycling through short-term placements, arrangements that dissolved one after another.
People who knew Ma'Khia had trouble recognizing her in the chaotic footage of the shooting released by the police. Staff members at her school saw her as quiet and diligent, the kind of student who would hug her teacher's aide every morning before math. She had a tight knot of girlfriends, who lavished one another with affection. Aaliyaha Tucker, 16, recalled her once coming to school with her hair in an outrageous style she called a "rainbow horn," extending vertically from the top of her head and then bursting into a mop.
"She didn't care what other people thought of her," said Aaliyaha, who allowed tears to run down her face. "She taught us how to love ourselves."
By this spring, when Ma'Khia's sister placed the first call to the police, her life in foster care had spiraled into dysfunction and disorder, family members said. And it was about to get much worse.
The chute of the system
In 2018, Paula Bryant had moved with her five children — including a teenage son from a previous relationship — into a house in West Columbus, where, she said in an interview, the landlords did not mind her credit problems. Mr. Hammonds, Ma'Khia's father, did not live with the family and Ms. Bryant described herself as raising the children largely on her own.
The Hilltop neighborhood once housed blue-collar workers for a General Motors plant, but the plant was shuttered years ago, and many of the bungalows have been converted into cheap rentals. It has one of the highest crime rates in the city.
Andrea Douglass, 37, a pastor's wife who lived two doors down from the Bryant family that year, has gotten used to turbulence. When shootings occur on her block, she said, "it's a big hubbub for a day or two and then life just moves on." But, three years later, she can still remember the fights between Ms. Bryant and her daughters.
"The girls ran out of the house terrified, and were hanging out in the backyard screaming while the mom was yelling at them," Ms. Douglass said, recalling that she was worried about their safety. "I never want kids to be afraid. When kids are afraid, that is a problem."
The family had been on the radar of Children Services for several years, amid repeated complaints that the two youngest children were absent from school. In February 2017, Ms. Bryant took Ma'Khia, Ja'Niah and two younger siblings to one of the agency's offices and said "she was at her wits end" and could no longer handle them, according to a Children Services document outlining the case. The children, Ms. Bryant told the agency, had "no respect" for those around them.
The move to Hilltop had been difficult for her daughters, who missed their friends on the East Side, Ms. Bryant said. "They were kind of rebelling in the home," she said. The police came, she said, when she was arguing with Ma'Khia and Ja'Niah over bedtimes, and their younger sister, Azariah, ran outside and yelled for help.
"The officers said, you have just lost control as a parent, meaning, you can tell them to go to bed, go upstairs right now, and they're not going to go," she said. The children told police officers that they had suffered physical abuse from their mother and an older half brother, according to the mother's lawyer, Michelle Martin, though Ms. Bryant denied ever abusing them. A magistrate judge dismissed the abuse claims against Ms. Bryant in February 2019 but found that she had neglected the children, according to court documents.
Ms. Bryant said she was detained while Ma'Khia and her three younger siblings "went in the paddy wagon."
Ms. Hammonds, their grandmother, took the four children into her two-bedroom apartment, sleeping on the couch so the children could have the beds. After about six months, she began receiving $1,200 a month in aid from the state to cover their care.
Service agencies offer far less support to family members who agree to take care of children in need: The per diem allowances paid to licensed foster parents are often 10 times greater than the public assistance paid to relatives. A grandparent can become licensed as a foster parent, but it can take as long as six months, said Anthony Capizzi, an Ohio family court judge who took part in a comprehensive review of the state's family services in 2019.
Ms. Hammonds did not have that long to wait.
"I was worn out," she recalled. "I was doing all the laundry, all the cooking, and I was working a part-time job at the time. And it was difficult because these children came from a lot of dysfunction."
Then her landlord found out that the children had moved into the apartment and told her she would have to move. She scrambled, placing the older girls at a summer camp and the younger two siblings in temporary foster care. When the camp ended, she had few options.
In desperation, she called the children's caseworker to ask if she could take them to a hotel with her for a few nights, but the caseworker said that was not allowed. He told her to drop the two older girls off at Franklin County Children Services, a hulking brick edifice in downtown Columbus.
She found it frustrating; she felt the children belonged with their family.
"They could've just given me what they give one foster parent, and then I could've gotten housing, taken care of the kids and done what I needed to do," Ms. Hammonds said.
When they pulled up to the building, she said, Ma'Khia did not want to get out of the car.
"She didn't want to leave me," she said. "I think about that all the time."
'Where's my sister?'
There was no chance at that point that the children would go back to their mother, who was still struggling to meet requirements for counseling and scheduled visits. Instead, the county placed all four children in foster care.
Ms. Hammonds slept wherever she could for several months — sometimes in hotel rooms, sometimes with friends, and many nights in her car — until she secured a home that could accommodate the children. In December 2019, Ms. Hammonds submitted a petition to the court for their return, but it was rejected.
Though the court's reasoning is not known, the Children Services agency had reported to the court that Ms. Hammonds had failed to meet all of the children's needs and had not made sure they attended all necessary counseling appointments, according to Ms. Martin, the mother's lawyer, who said the conditions imposed were unreasonable.
The girls, meanwhile, were placed in group homes. Ja'Niah recalled that, not long after their grandmother dropped them off, she and Ma'Khia were told they had to go into separate rooms for physical examinations. When she emerged, her sister was no longer there.
"I said, 'Where's my sister?'" she said. "It was like, 'We don't know, we'll check,' but he never got back. So that's when I realized we were being split up."
After that, Ja'Niah said, the two sisters moved through half a dozen living situations. There was, she said, a foster home so strict that Ma'Khia was often not allowed to leave the house; a group home with dog feces on the floor; a foster mother who screamed at the top of her lungs, not realizing Ma'Khia was recording it all on her phone.
Even when the living situation was good, and a foster parent in Dayton mused about adopting Ma'Khia, her sister was not interested, Ja'Niah said. "She wanted to get back to me, to family. To Columbus," she said.
At school, Ma'Khia kept her family issues to herself. Jessica Oakley, the teacher's aide who worked with her at Canal Winchester High School, recalled her as "a hard worker, a sweet girl, very shy." At the end of ninth grade, she made the school's honor roll.
She was diligent about schoolwork, and continued to seek out Ms. Oakley's assistance even when the school shut down because of the coronavirus, once spending eight hours with her teacher on a Google Hangout, going through all her homework.
"She was definitely my girl," Ms. Oakley said.
She said it was rare for Ma'Khia to mention anything about her family — except for Ja'Niah.
"She was very protective of her sister," she said. "She was like, 'No one messes with my baby sister.'"
Micheale Cates, 54, one of the foster parents who briefly housed Ma'Khia during that period, was friends with Ms. Moore, who took her in later. She would not discuss the details of the case, but she said she had noticed a pattern: Children who had escaped from traumatic family situations often long to return to them.
"Home is more than just a location, it's where you have a level of comfort," she said.
"Ma'Khia really was a family person, she needed that," she said. "But, see, sometimes it's not the best for the children. These children get triggered. I know the whole idea — keep them together, keep them together — sometimes that's the worst thing for these kids."
An afternoon at Angie's
The two girls ended up at Ms. Moore's house on Legion Lane — not far from their grandmother's house, and together for the first time since they left her care.
The suburban home is neat and well-tended, with bunches of artificial yellow flowers poking out of the turf beside the door. The two sisters would make TikTok videos, dance, go skating, or go to an amusement center called Scene75 that has rides and video games, Ms. Moore said. Ma'Khia, she said, was not troublesome.
"She's a quiet girl. She doesn't start fights anywhere. She wasn't a troubled child," she said. "She was fun. She loved her family. She loved her siblings. They were close."
Still, Ms. Moore placed repeated calls to 911 in which she seemed to struggle to manage the children she had taken in.
Sometimes, she was calling to report that a teenager had "gone AWOL," failing to return home by curfew. But late last year, Ms. Moore sounded deeply shaken as she asked the police to remove a 10-year-old boy — or, as she put it, "one of my irate foster youths" — from her home.
The boy could be heard in the background, alternately roaring and howling, as Ms. Moore told the police that he had been knocking ornaments off her Christmas tree. Three hours later, she made a repeat call for assistance, saying she did not feel safe driving the 10-year-old in for a psychiatric evaluation.
After a brief initial interview, Ms. Moore declined to answer questions about conditions inside the home in the period before the shooting.
Ms. Cates, who formerly cared for Ma'Khia, said Ms. Moore faced a problem common to many foster parents: The agency expected her to work full-time outside the home, a situation that forced her to leave foster children unsupervised.
"I believe she was a loving, caring foster parent," she said. But, she added, "foster parenting is a full-time job."
By this spring, Ja'Niah said, Ms. Moore's home had become increasingly tense. In the weeks leading up to the shooting, she said, Ms. Moore had accused the girls of stealing the cards that carry cash benefits for food.
And she said Ms. Moore sometimes left them unsupervised, or with former foster children, women in their 20s who, she said, berated them and mocked Ma'Khia's speech impediment.
After school on April 20, the two Bryant girls found themselves alone in the house with Tionna Bonner, 22, one of Ms. Moore's former foster children and, Ja'Niah said, her special favorite.
Ms. Bonner, who had come to celebrate Ms. Moore's birthday the previous day, was now scolding the girls, saying they were habitually disrespecting Ms. Moore.
"She's like, 'My mom told you all to clean up this house, it's dirty,'" Ja'Niah said.
The dispute escalated quickly, but when Ja'Niah called Ms. Moore, who was at work, she said she was too busy to get involved, Ja'Niah said. So each of them called for backup: Ja'Niah called her grandmother, and Ms. Bonner called another young woman, Shai-Onta Craig-Watkins, 20, who had lived in the house as a foster child. Neither Ms. Bonner nor Ms. Craig-Watkins agreed to be interviewed for this article.
Ms. Hammonds rushed over and described standing on the stairway inside, trying to protect her granddaughters as the older women threatened to beat them up. Ms. Bonner had pulled out a knife, Ja'Niah and her grandmother said, and Ma'Khia had grabbed a steak knife from the kitchen. Ja'Niah went into her room and called 911. In the call, placed at 4:32 p.m., Ja'Niah asked for help as people shouted in the background.
Someone could be heard saying, "I'm not scared of no knife."
"It's 3171 Legion Lane," Ja'Niah told the dispatcher. "We got Angie's grown girls trying to fight us, trying to stab us, trying to put her hands on our grandma. Get here now!"
Twelve minutes later, the police arrived.
In a brief lull, Ms. Craig-Watkins left the house and the sisters began to pack up their things, thinking the worst of the situation was over. As they rushed out of the house, their father was pulling in to come to their aid. But also arriving was Ms. Craig-Watkins, who had returned with two more people. The two groups crossed paths, and Ms. Craig-Watkins spit toward the family, Ja'Niah and Ms. Hammonds said.
"I feel like that really made Ma'Khia really mad when she spit," Ja'Niah said. "That's when everything just went left."
A police officer stepped out of his car and walked toward the driveway just as Ma'Khia turned her attention to Ms. Craig-Watkins and could be heard on a video from a neighbor's surveillance camera threatening to stab her.
As Ma'Khia charged, Ms. Craig-Watkins tumbled to the ground, and Ma'Khia's father tried to kick her. Ma'Khia turned to Ms. Bonner and backed her up against a car.
Ma'Khia raised a knife, and Officer Nicholas Reardon, a white 23-year-old who was the first officer to approach the scene, shot four times at Ma'Khia, who slumped down.
As Ma'Khia's body lay on the ground, police officers led Ja'Niah inside Ms. Moore's house, along with her father's young son.
Ja'Niah turned on the television to find some cartoons for her younger brother to watch. Instead, what flashed on the screen first was a news report: a jury in Minneapolis had found Mr. Chauvin guilty of murdering Mr. Floyd.
Before an officer took her phone, she sneaked into a bathroom and made one more call for help.
"I called my real mom — my biological mom — and I told her, I said, 'I need you. They just shot Ma'Khia. Get here now,'" Ja'Niah recalled. "I needed her."
SOURCE: New York Times