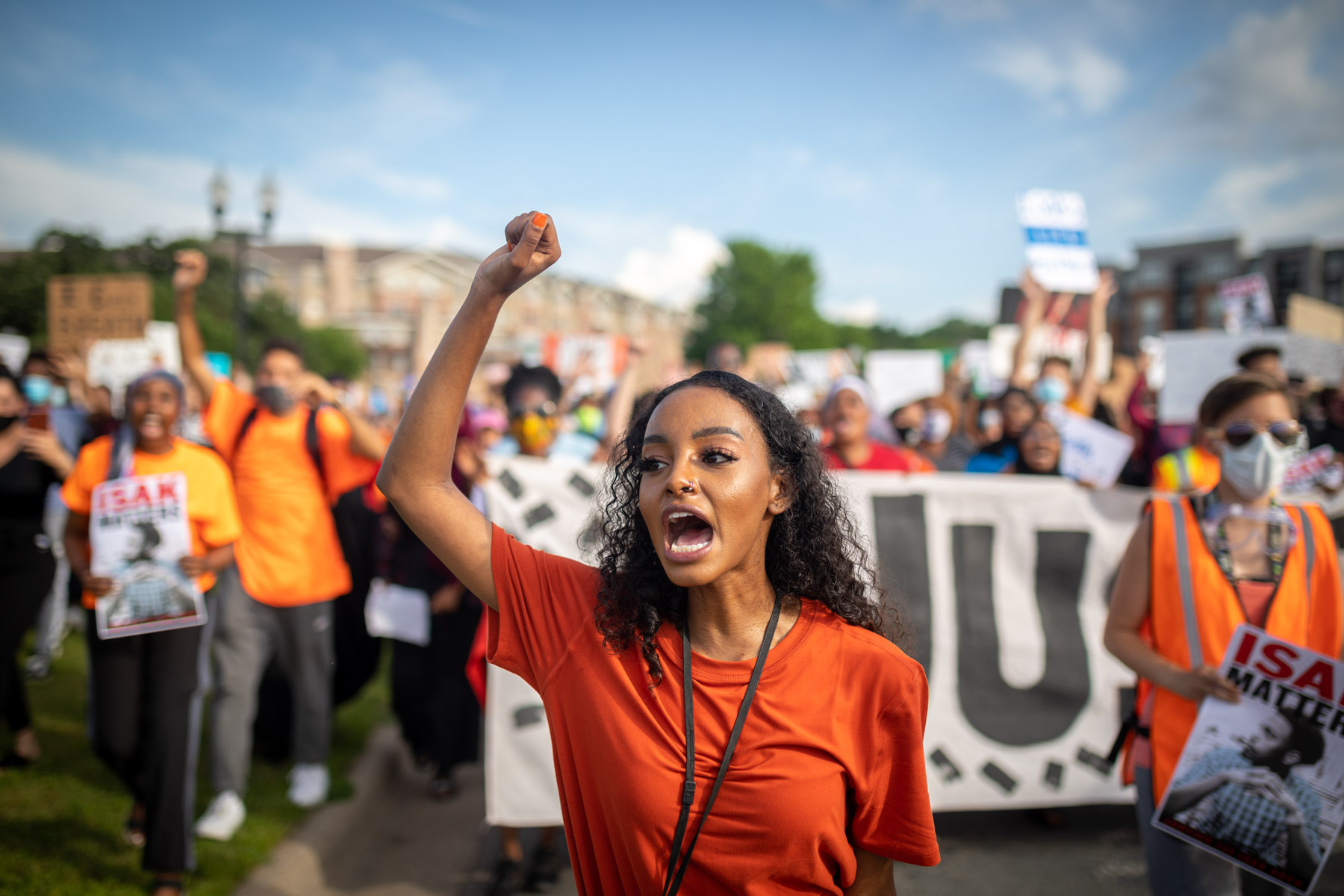 After guilty verdict in George Floyd's murder, families of Isak Aden and Dolal Idd ask, 'What about us?'
By Hibah Ansari and Becky Z. Dernbach 
MINNEAPOLIS – Sumaya Aden called her grandmother a few days after a jury found Derek Chauvin guilty in the murder of George Floyd. Her grandmother, who had raised Sumaya and her siblings, was crying on the other end of the line.
"When is this going to happen to Isak's killer?" she asked her 23-year-old granddaughter.
Sumaya didn't know what to tell her. How could she explain that the officers who fatally shot her brother, Isak Aden, have never faced charges?
Sumaya was calling her grandmother from her home in California, where she's been working toward a law degree—all while managing a federal civil rights lawsuit against the cities of Bloomington, Burnsville, Eagan, and Edina—as well as the police officers involved in Isak's 2019 death. Since returning to California, Sumaya has also organized and spoken at Black Lives Matter protests in Los Angeles.
In the past couple of years, two young Somali men—Isak Aden and Dolal Idd—have been killed by police in the Twin Cities area. When Sumaya first heard that Chauvin was found guilty, she had mixed feelings.
"Knowing countless families that haven't gotten that type of accountability and that level of support, it kind of broke me," Sumaya said. "But also, it needed to happen."
Sumaya captures an emotion here shared by other activists and family members of those killed by police. They're cautiously celebrating the first time in Minnesota history a white officer has been convicted in the death of a Black man. But they are also calling for deeper change, so that police accountability isn't so rare. And some are questioning why the killings of Dolal and Isak didn't spark the same kind of movement and prosecution that Floyd's death did.
While the Aden family waits for their civil lawsuit to slowly unfold, the family of Dolal Idd has been waiting for findings in a police investigation—which is still ongoing.
Zaynab Mohamed, CAIR-MN's the community advocacy manager for the Council on American-Islamic Relations–Minnesota, found Chauvin's verdict bittersweet. "It's hard to be happy and celebrate it when just a week ago someone died, and there's still other cases that haven't gotten the same accountability that this case has gotten," she said.
Zaynab attended the April 22 funeral for Daunte Wright, a 20-year-old Black man killed by a Brooklyn Center police officer. In the week leading up to the Chauvin verdict, Wright's death sparked massive protests and garnered national press coverage. In the midst of this grief, Zaynab said she couldn't help but think of Dolal Idd and Isak Aden.
"It's unfortunate that certain cases make it to a national level as far as the news goes, and so they get so much attention, people rally around them," she said. Meanwhile, she noted, Dolal Idd's family has yet to receive any answers for what happened to their son, or why. "Other families are still suffering."
'We want that same accountability'
According to a police report, Bloomington police shot and killed Isak in July 2019 after a dispute with his ex-girlfriend. She'd seen Isak carrying a gun and called 911 when she saw Isak was carrying a gun. Police found Isak sitting on a sidewalk pointing a gun to his head.
An officer eventually negotiated with Isak to put down the gun. But when police shot three flashbangs and six non-lethal rounds at Isak, he reached for his gun again. Police then shot and killed Isak with 11 bullets and two sniper rounds.
Four months after the shooting, Dakota County Attorney James Backstrom said an Eagan police officer and four Bloomington police officers involved were legally justified when they used deadly force.
For almost two years, Sumaya has been calling on the county to reopen the case. About 150 protesters joined her last summer on the one-year anniversary of Isak's death in a march from the Eagan Outlet Mall to the site of his death. The following day, lawyers for Isak's family filed a federal civil rights lawsuit.
After going through the evidence of her brother's killing, Sumaya concluded that the police reports offered an incomplete narrative.
The family's lawsuit lays out a different version of events: "The Law Enforcement Defendants saw only a threat—a young, Black, Somali male—and willfully ignored Mr. Aden's conduct, the positive results of negotiations that had occurred in only an hour of communications, and the Law Enforcement Defendants' own conduct in preventing a peaceful resolution," the lawsuit says.
Sumaya is now the same age Isak was when he died. The last few years have motivated her to pursue a career in law. She was out for lunch with a friend when the judge announced Chauvin guilty on all charges. She told her friend that she feels the pain of the Floyd family, but it was still hard to be happy.
"We're still working towards getting justice for him," Sumaya said of the suit. "We do want that same accountability that we saw this week and we are still pushing for it in any way we can."
She noted the civil unrest that followed Floyd's killing. "As vile as Philando Castile's case was, as vile as Jamar Clark's case was—does it really take the burning of a precinct for this kind of outcome?" Sumaya said.
'He'd never harmed anyone'
About a year after Backstrom declined to indict the officers who killed Isak, his office took on another fatal police shooting, this time in Minneapolis.
Squad cars surrounded Dolal when he arrived at the Holiday gas station in south Minneapolis on December 30—just a mile from the site of Floyd's death at Cup Foods. Minneapolis police had suspected Dolal of illegally selling firearms. Possession of weapons would also have violated the terms of his probation for a 2018 incident, when Dolal fired a 9-millimeter Smith & Wesson handgun in the basement of his parents' home. The Minneapolis First Precinct Community Response Team used an informant to set up a sting operation at the gas station to purchase a handgun from Dolal.
Police allege that Dolal attempted to flee and fired at the officers first through a closed car window. They returned fire and he died at the scene. Police later released a single 27-second bodycam video of the incident—the first police shooting in Minneapolis since the death of Floyd.
Dolal's family didn't find out he had died until after a dozen officers from the Hennepin County Sheriff's Office raided the Idd residence in the middle of the night on December 30. The officers were looking for more weapons but found none.
Dolal's older sister Ikram Idd, 32, said the entire account of the shooting left her family confused. The family had even more questions after the raid.
Ikram's family has had a complicated history with law enforcement. Two of her brothers are also serving time. But the family has struggled to understand how officers were justified in fatally shooting Dolal.
"He'd never harmed anyone," Ikram told Sahan Journal in January. "The authorities see him differently, labeling him because of his Black skin, because of his brothers' situation, because of his color, because of his physical appearance."
A week after Dolal died, Backstrom announced his retirement as county attorney. Since then, Dolal's family says they have received few updates about the status of the investigation. The Dakota County Board of Commissioners is in the process of selecting a successor to fill the position until the 2022 election.
The Dakota County attorney's office took on the role of reviewing the case under an agreement among five counties in the metro area. That office will determine whether the lethal use of force was legally justified, as well as any possible criminal charges against the officers involved. A Dakota County attorney spokesperson said the Bureau of Criminal Apprehension is still investigating and has not yet forwarded the case to the attorney's office.
'The result of this verdict has opened the doors'
On Tuesday, Ikram watched Chauvin as the judge read the verdict. Even though he was wearing a mask, Ikram said he looked surprised as she watched his eyes wander left and right.
"You could tell he was expecting something else," Ikram said. "That's how Minnesota has been—white officers get away with police brutality and shootings."
Ikram said that her family hopes that Chauvin's case will put pressure on the department investigating the death of Dolal.
"The result of this verdict has opened the doors for receiving justice for all the other innocent victims," Ikram said.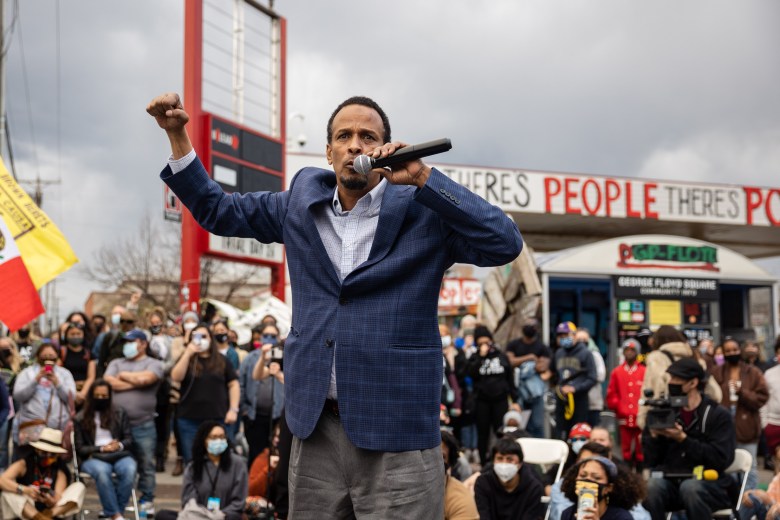 The family is considering legal action, but they're waiting for more details about the case itself. The wait feels isolating, she suggested.
"Because we're Somali, a lot of the African American community don't consider us Black. So we're not getting as much attention as Daunte and George Floyd," Ikram said. "We should be united. At the end of the day, if your skin color is black, you're considered Black."
Ikram's family continues to support the Black Lives Matter community in the Twin Cities. Her father, Bayle Gelle, has become a fixture at protests over the past few months; he spoke again at George Floyd Square after the verdict was announced.
Do protesters take equal note of Somali deaths?
Aki Abdi, 21, said he attended that same post-verdict gathering to honor Dolal during Ramadan. He was glad to see Chauvin convicted of murder, and described it as a step toward justice. At the same time, he wanted to make sure people remembered the names of Dolal and Isak.
"It isolates us when we're not mentioned," Aki said. "It isolates us when we're not being fought for."
While some people came out to protest Dolal's death, he said, the protest "died out just like that." He didn't want to compare one injustice to another. "But when you're Somali, you're going to feel a type of way when your people are being prosecuted and killed, and nothing's being said."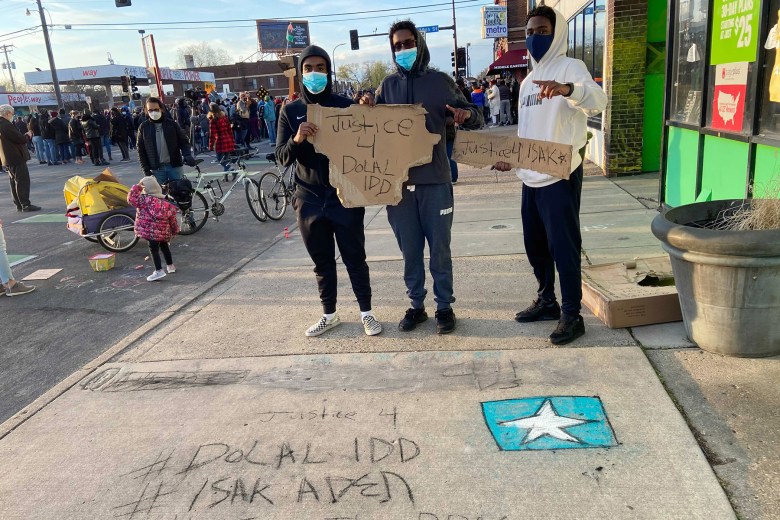 Mohamed Mohamed, 26, a member of the Muslim Coalition—part of the interfaith group ISAIAH—said he initially felt the same way right after Dolal's death. "Where is the BLM movement for our Somali kid?" he remembers thinking.
But Mohamed said he then talked to friends who helped him rethink his feelings. "It's just going to cause more division," he said—an unhelpful way to pursue their shared cause.
Now, Mohamed said, he understands that protesters are exhausted. They often need to focus on one "beacon," like George Floyd, at a time. It's important to give people in the fight for justice the benefit of the doubt, he said, because it will take a collective body to keep pushing for real change. And fighting for that change can honor the memory of those who never saw accountability.
Zaynab, at CAIR-MN, said that every case that came before Floyd's—including Isak's—led to Chauvin's conviction for murder. With this guilty verdict, she hopes that past cases, like Isak's, can be reopened. CAIR has also invested hope in a Department of Justice probe announced this week, examining whether the Minneapolis Police Department consistently uses excessive force or violates the public's constitutional rights.
As time passed in the hours after Dolal's killing, Mohamed noticed more and more people came out to protest. The crowd started small that night, ballooned the next day, and grew over the course of the week.
That helped, he said.
"I felt a sense of belonging, a sense of relief," he said. "It's like when you're in pain, and somebody tells you it's going to be okay. Or when a kid falls, they hurt themselves, and someone blows on their skin, and say, Hey, you're gonna feel better now."
Sumaya recently spoke to a close friend from high school who is also a relative of Dolal's. Her friend told Sumaya: The only two funerals I've ever gone to were Isak's and Dolal's.
The two talked about how it's one thing to hear about a Black man shot by the police, but something different to experience it personally. It was surreal, Sumaya said.
Sumaya and Ikram hope no other family has to experience another loss like theirs. Yet watching Daunte Wright's family gather to mourn his death, two days after Chauvin's conviction, they could see the cycle—of grieving, daring to demand accountability, knowing that nothing can bring your loved one back, and demanding justice anyway—begin again.
SOURCE: Sahan Journal