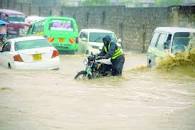 Heavy rains leave a trail of death, destruction of property across Kenya
Heavy down in Mombasa town
The ongoing rains have left 17 people dead, while 15 others have suffered various injuries since mid october.
A report by the the Kenya red cross show a total of 1067 livestock have died within the same period.
The latest victim is a child who drowned in Kako Waia in, Makueni county following a heavy downpour and a woman who died in Busia on October 24 after the roof of her house collapsed. A woman was swept away yesterday when she attempted to cross Enziu river, Mwingi central, Kitui county.
Other deaths documented in the red cross report include two people killed by lightning strikes in west pokot and Mandera on October 22 and 29 respectively.
Last month, President William Ruto said the the country will not experience El Nino rains starting this month similar to the one experienced backin 1997.
The 1997 El Nino rains had devastating impac on Agriculture, water resources, transport and communications and health sectors.
El Nino phenomenon
In Samburu county, eight passengers escaped death narrowly when their lorry was swept away by floods. They were rescued in a daring helicopter operation. El Nino rains recur every 3 to 5 years and is characterised by warmer than average Sea Surface Temperatures(SSTs) over the central and Eastern Equitorial Pacific Ocean. The phenomenon significantly influences global weather patterns, including rainfall in various regions.
The Kenya Meterological Services had previously issued a warning that Elnino conditions were likely to persist through the October, November and December season.