Explaining Question 1 and the future of the CMP Corridor
By Houssein Mouhoumed
PORTLAND, Maine — On Nov. 2, Maine voters will head to the polls to weigh in on three different referenda, including a vote to decide the fate of CMP's Corridor project, known as the New England Clean Energy Connect.  
The most expensive referenda campaign in state history and $60 million spent from both sides, Mainers have seen ads from the players on both sides. Yet with all this money spent, it is still a daunting task to understand what is at stake for Question 1.  
What is the CMP Corridor?  
The CMP corridor is a 142-mile-long project going alongside 92 miles of existing transmission lines and through 53 miles of untouched forest and wildlife in Northern Maine. The project was bid on, and won by CMP, after Massachusetts passed a law committing the state to use more renewable and clean energy in the next decade.  
The transmission lines would be able to carry 1,200 megawatts of electricity from Canada's Hydro-Quebec dam to Lewiston, Maine, where it would then connect to existing transmission lines reaching three utility companies in Massachusetts.  
New Hampshire and Vermont were initially approached by Massachusetts to host the project, but upon the release of their Environmental Impact Statements, both states declined the offer, leaving Maine the only and last option.  
What are both sides saying?  
CMP has promised numerous benefits and incentives to push the controversial project forward, including a whopping $256 million to benefit low-income Mainers, reduce rates for energy consumers, subsidize household purchases of electric heat pumps, and more. 
The company has also touted its strategy of adding 1,600 jobs to the Maine workforce, a promise that has been refuted by opponents to the corridor who have pointed out that these positions will be temporary and thus not sustainable.  
The project would also generate property tax revenue which would support the host cities and towns' economy and allow them to develop more social projects. Lewiston would be one of those cities, as they approved the construction of a new convertor station. According to the CMP Corridor's official website, Lewiston would gain about $7 million per year from property tax revenue. 
Many grassroots organizations and activists in Maine like Maine Local Power, No CMP Corridor, Sierra Club, Appalachian Trail Club, and the Maine Department of Inland Fisheries and Wildlife have criticized the project, saying that the construction will affect everything from wildlife and the environment to the tourism industry.  
Environment Maine has pointed to the fact that CMP will be clear-cutting 52 miles of trees to build new lines. Clear-cutting, as opposed to logging, which is already happening in the area, not only removes the trees in the area, but also prevents their regeneration. As climate change fuels natural disasters around the world, the organization says that clear-cutting these woods would effectively worsen the issue, providing less absorption of CO2 gasses, and less oxygen output.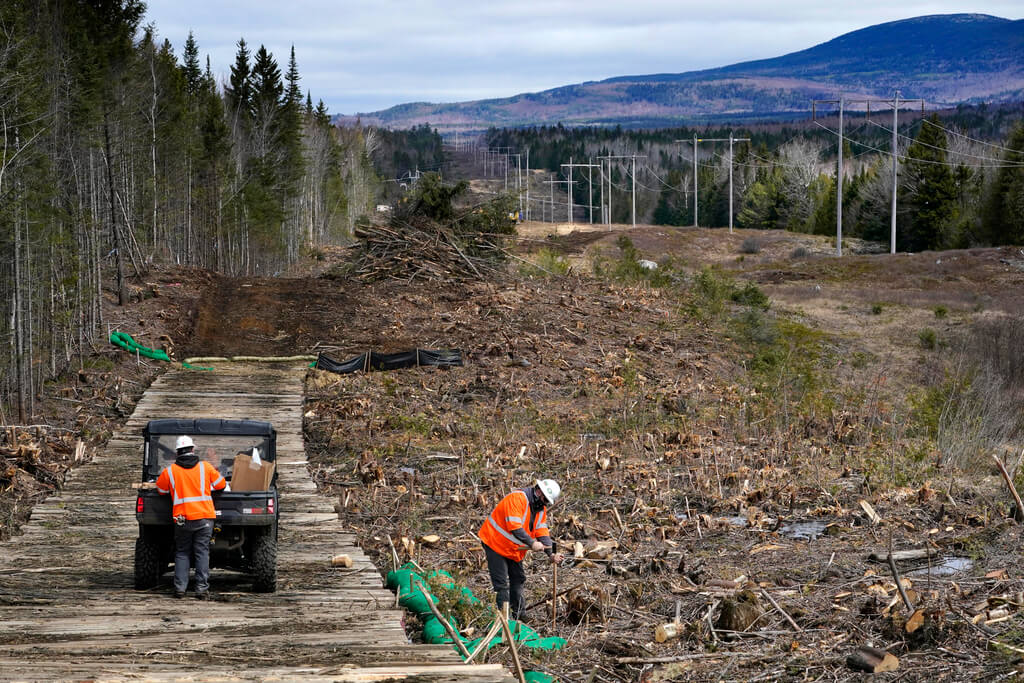 According to the Sierra Club, the average hardwood tree absorbs around one ton of carbon dioxide by the time it is 40 years old. The 10.5 million acres (about twice the area of New Jersey) of North Woods would absorb over 105 million tons of carbon dioxide a year if it were kept in place.  
The Nature Conservancy in Maine says that clear-cutting a 300-foot-wide path for 53 miles would destroy essential habitats and affect deer migration. Forest fragmentation can lead to extinction of species when they lose their shelter and food, as well as creating forest edges, which are windier and dryer than deeper parts of the forest, making forest fires more likely.  
Using standard mitigation principles, the Maine Audobon Society estimates that "75,000 to 100,000 acres of forest land protection in the North Woods would be necessary to compensate for the project's habitat fragmentation impacts."  
Claims from CMP that the hydropower energy will be clean have also been refuted. In an article written by Rep. Jennifer Poirier (R-Skowhegan) for the Piscataquis Observer, Poirier pointed out that according to Maine's own renewable portfolio standards, the energy cannot be classified as clean.  
The last and most salient argument dismisses CMP's commitment to bring more jobs and cheaper energy to Mainers. Conservative estimates say that the average household will save about $116 per year on their energy bill, while CMP and its multinational parent companies will see an annual revenue of about $75 million, according to Sierra Club. Only about 5% of the energy moving through the corridor will be destined for the use of Mainers.  
How is the question phrased? What does it mean?  
Question 1 asks, "Do you want to ban the construction of high-impact electric transmission lines in the Upper Kennebec Region and to require the Legislature to approve all other such projects anywhere in Maine, both retroactively to 2020, and to require the Legislature, retroactively to 2014, to approve by a two-thirds vote such projects using public land?" 
The most confusing part about the question is the concept of retroactivity. If the question passes, construction of the corridor would end, and any similar projects that have begun since 2014 that alter public lands would require a two-thirds majority vote from the Legislature. This rule is currently in place under law, but it was bypassed when CMP received a permit directly from the Maine Bureau of Public Lands.  
If most voters vote no and the question does not pass, the corridor's construction will continue and projects already underway will not require a majority vote to go on.  
Either result will surely be controversial, but on Nov. 2 we will finally see a conclusion to this long-fought battle in Maine.