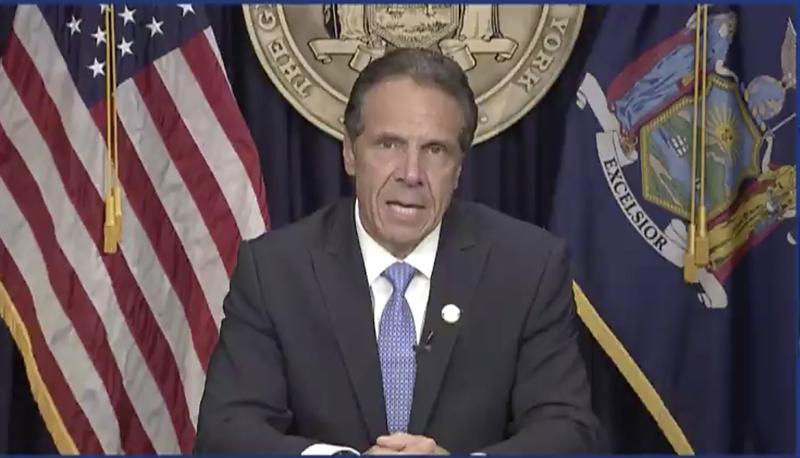 NY Gov. Andrew Cuomo resigns amid allegations of sexual harassment, 2 years after signing bill expanding sexual harassment laws
By Setareh Jalali
New York Gov. Andrew Cuomo resigned from his position Tuesday during a speech to the public amid allegations of sexual harassment from 11 women who worked with him.  
Today was Mr. Cuomo's first address to the public since last Tuesday, the day the New York Attorney General's investigation findings were released.  
It was only two years ago that the former governor signed legislation that expanded workplace harassment protections for employees. The bill was part of Cuomo's 2019 Women's Justice Agenda, which he announced as a "direct rebuke to Washington's assault on women's rights" under the former Trump administration.  
The bill did three historic things for expanding employees' rights against sexual harassment: 
Eliminated the restriction that harassment must be "severe or pervasive" in order to be legally actionable

Extended the statute of limitations for employment sexual harassment claims filed from one year to three years

Mandated that all employment contract NDAs include language allowing employees to file a complaint of harassment or discrimination

 
"Let's honor all the women who have suffered this pain and endured this humiliation," Mr. Cuomo said in a video discussing the legislation. 
But today, this same attitude was absent in Mr. Cuomo's speech as he continued to deny having touched anyone inappropriately. He began his speech with what he called "facts before his opinion."  
"The Attorney General did a report on complaints made against me by certain women for my conduct. The report said I sexually harassed 11 women – that was the headline people heard and saw and reacted to. The reaction was outrage. It should have been," Mr. Cuomo said. "However, it was also false."  
Mr. Cuomo cited bias and political agendas as the reasons behind the state assembly's move towards his impeachment, which was in the works until his resignation today.  
He said he believed that there had been no "credible factual basis" for the allegations in the 126-page investigation. 
Just a few moments later, he said that he took full responsibility for his actions, though he apologized for how the women felt rather than for specific actions he made. Mr. Cuomo implied multiple times that the dispute was born out of changing times that he wasn't aware of. 
"In my mind, I've never crossed the line with anyone. But I didn't realize the extent to which the line has been redrawn. There are generational and cultural shifts that I just didn't fully appreciate," the former governor said. "And I should have."  
To have worked on a bill expanding rights for victims of sexual harassment and not known the cultural attitudes towards that behavior is as surprising as it is improbable.  
At one point, as Mr. Cuomo insisted that he only hugged staff people to be friendly and called people honey and sweetheart to be endearing, he acknowledged that people found it "dated and offensive." He did not imply though that this was a valid perspective, but rather that he was a hapless victim of the times.  
Right after, Mr. Cuomo discussed an incident that occurred earlier this year on national television, when a doctor performed a Covid nasal test on him. He told her, "You make that gown look good."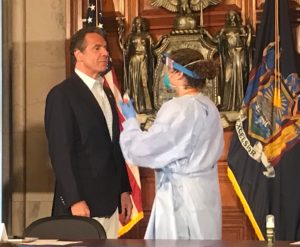 "I was joking, obviously, otherwise I wouldn't have said it on national TV. But she found it disrespectful. I take full responsibility," he said.  
Something that makes sexual harassment so pervasive is its ability to be passed off as nothing more than a joke. Mr. Cuomo should have known after signing the 2019 bill that despite his intentions, his actions negatively affected the employees in his workplace.  
Brittany Commisso, a former aide who filed a criminal complaint against her former boss last Thursday, told investigators that she and many others felt that he knew how much power he had and how to wield it.  
"[A]ny time he touched me I felt like it was inappropriate. He was my boss, let alone the Governor of the State of New York, so I definitely felt he abused his power and definitely knew that he had this presence about him, very intimidating, no one ever told him that he was wrong nor were you told to do so," she said.  
In the end, Mr. Cuomo apologized to one of the accusers who has come forth. Identified as "Trooper #1" in the investigation report, the woman was hired to the governor's trooper detail after meeting him at an event, despite not meeting the requirement to have at least three years of State Police service.  
She accuses Mr. Cuomo of making inappropriate jokes about her marriage and touching her multiple times on her stomach and back in ways that made her feel uncomfortable. She says that she never saw the governor display that behavior towards male troopers. 
Mr. Cuomo claimed that she had been hired because his trooper detail lacked diversity. Regardless, he said in the speech that he was sorry for touching her stomach one day as she held the door open for him.
He did not, however, apologize for comments about her marriage and for another alleged comment when the former governor asked her age (late 20s) and the Governor responded, "You're too old for me."  
Mr. Cuomo's resignation will be effective in 14 days. Lt. Gov. Kathy Hochul (D) will replace Cuomo and become the first female governor of New York.