YOUTH BIPOC SPOTLIGHT: A Young Activist in Maine Finding Purpose in her Community Work.
By Houssein Mouhoumed
Portland, Maine — This is the first of our series of interviews with young BIPOC Mainers who are making an impact in the community. Check our website for more interviews.  
"I raise my voice not so that I can shout, but so that those without a voice can be heard." – Malala Yousafzai  
This quote reflects the conversation we had with Kasandra Thach, an articulate, outspoken, and inspiring young woman on a beautiful Saturday afternoon over Zoom.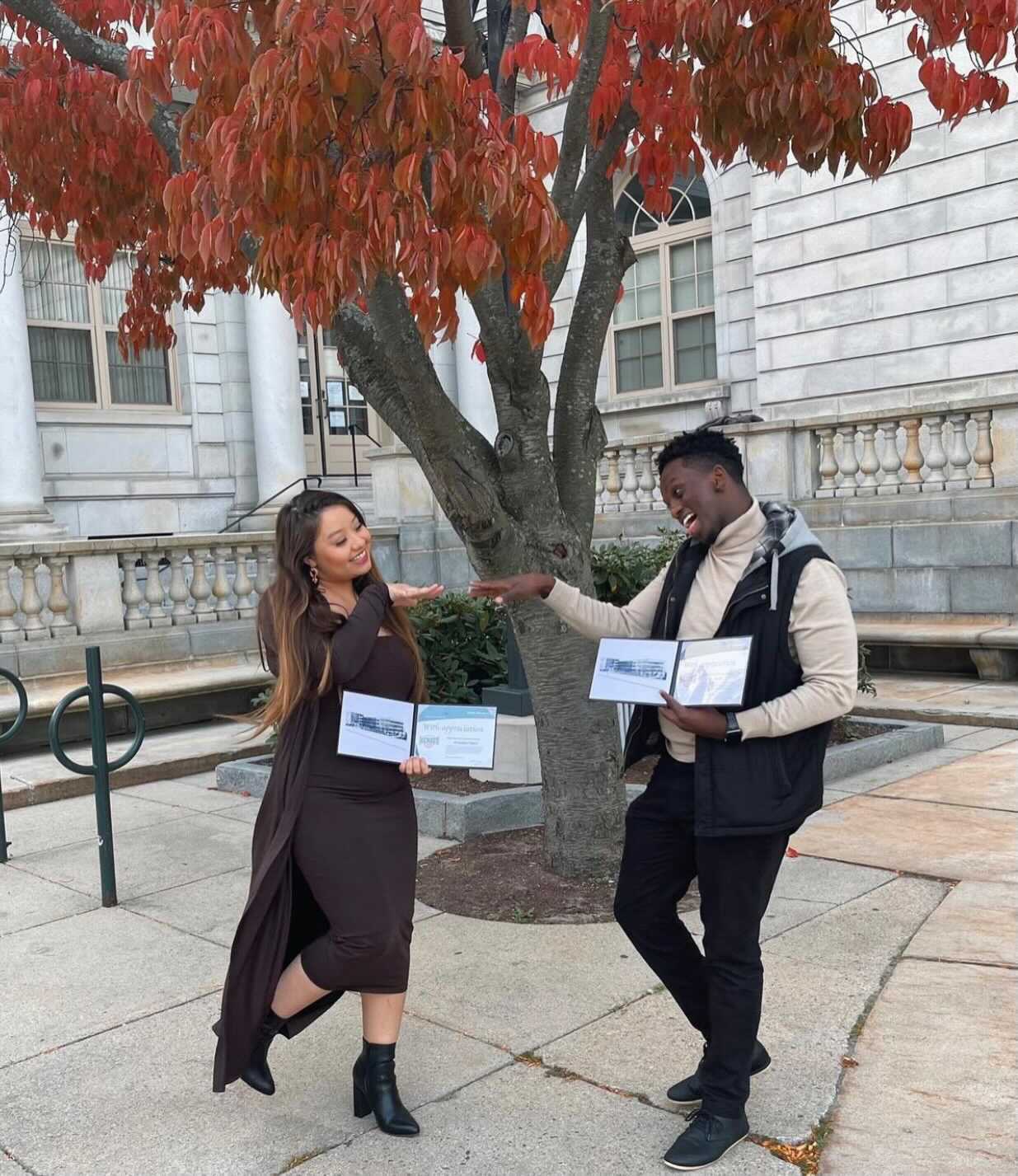 As we saw in the summer of 2020, young people of color have been at the forefront of the fight against social injustice in our country—and Kasandra's activism is no exception. Her work resulted in Modern Woodmen of America nominating her as a hometown hero to Portland, Maine in October of this year, alongside her friend and mentor, Ali Ali.   
As a core leader of Maine Youth Justice, active opponent of youth incarceration, and founder of The Portland Butterfly Project, a homeless person's advocacy group, Kasandra has spent years fighting for her community and credits that to her privileged experience of receiving a private education and gaining incredible community support.  
Born to Serbian and Cambodian immigrants, 20-year-old Kasandra grew up in Portland and attended public school until she was accepted into Waynflete School in Portland's West End.  
In high school, she says she faced a lot of criticism from her friends.  
"I was ashamed and made fun of for the fact that I was given the opportunity to attend a private school while my friends were going to public school, but I now understand that they were only upset because they were not granted the same opportunities," Kasandra said. "It made me upset because we both knew how much we deserved. They just weren't being challenged in the same way, and it was usually because they were often doubted as students of color."  
Because of this, Kasandra says she spent a lot of time at school where she felt safe and understood by adults who supported her and saw potential in her. This later translated into her passion for advocating access to proper education for all and noting how evident inequalities are within all educational systems.  
She specifically recalls one teacher, Sue Stein, who continuously encouraged and advised her to use her voice for what she believed in. Kasandra says she really found her purpose after her teacher pushed her to join activist-based groups where she would later meet a young local activist, Ali Ali, an organizer with Maine Youth Justice.  
After connecting with Ali, Kasandra was offered to join MYJ (Maine Youth Justice) in their fight to close the last youth prison in Maine, Long Creek Detention Center. Since then, Kasandra and her peers began working and advocating for the Maine Legislature to pass LD 1668, a bill they have specifically designed to shut down the last standing youth prison in Maine with additional plans to reinvest the annual $18 million budget to "a continuum of community-based alternatives" for incarcerated or convicted minors.  
Although the bill passed both the house and senate with ongoing support from the community, Governor Janet Mills continued to veto the bill back in June 2021. Kasandra expressed her frustration as she felt Mill's ignored all the work MYJ and her state had done.  
"I honestly don't know how to feel about the decision. I was so defeated after Governor Mills vetoed our bill especially because my team was not given any opportunity to sit down with her to discuss our alternatives regarding LD 1668. It does not end here though! We have a lot more planned."  
Kasandra has not let it get her down too badly. She made sure to note how far her team has come in only two years.  
Aside from her work with MYJ, she continued to further The Portland Butterfly Project, which she founded in 2020 to help the unhoused community in the greater Portland area.  
She credits her time fundraising for and donating to the City Hall encampment protest in July 2020 with inspiring her to start the organization.  
"With the help of my uncle who was the first to donate, I decided to use the $100 donation to show how much can come out of it! I started handing out small essential kits to the homeless community who were at that time at Deering Oak Park, and it all ignited from there."    
Kasandra received even more support and donations after recording the event and posting it on her social media platforms.  
"The project's mission has evolved over the year as more people have become aware of us," Kasandra says. "And now our mission is to educate Maine and support the homeless community by hand-delivering packages of hope and posting content when possible."  
When we asked what the Butterfly Project has planned for this year, Kasandra shared an inside scoop of some exciting plans for the holidays.  
"After receiving the Hometown Hero Award, I was offered a collaboration with the Windham High school Health and Advocacy Group. We are planning to provide toys to those in need for a special Christmas. These young students are incredible, and I am so grateful they want to turn this into something more magical than I ever anticipated."  
Aside from being an activist, college student, and active member of the community, Kasandra also runs a small business that she founded during the pandemic as a hobby. K.sweeets is a social media-based chocolate-covered sweets service that helps customers like you "bring unique gift ideas to life through chocolate and fruits." You can check her works out on Instagram @K.sweeets.   
"I pride myself on having a range of affordable options that fit both your budget and tummy! It is important to me that each order is unique to you, and that you have complete control over the message you want your sweets to give!" Kasandra says. 
Kasandra is always on the move looking to broaden her menus; in fact, she just recently launched her newest goodies: Cocoa Bombs, also better known as Hot cocoa! Her goal is to expand the menu to fit every occasion this holiday season.  
As we ended our interview, Kasandra shared how important a community is to thrive.  
"My life could have been so different, but I want these kids to know that they too can be heroes of their communities but only if they are given the proper resources to do so. It is not their job to find those resources or find ways to maneuver through the world that can be unjust. It is the government's job to make sure that we provide that security in every environment possible. These kids are our futures and they will shine once we dismantle the harmful systems that we still normalize to this day."  
Kasandra ends with a call to action for all readers: "I urge you all to keep fighting for what you believe in. Governor Janet Mills must do her job and part of that is listening to youths' voices. Call, email, and speak for those who cannot. You can do it. Your voice matters."
Media Link:
Find her goodies here: https://www.instagram.com/k.sweeets/