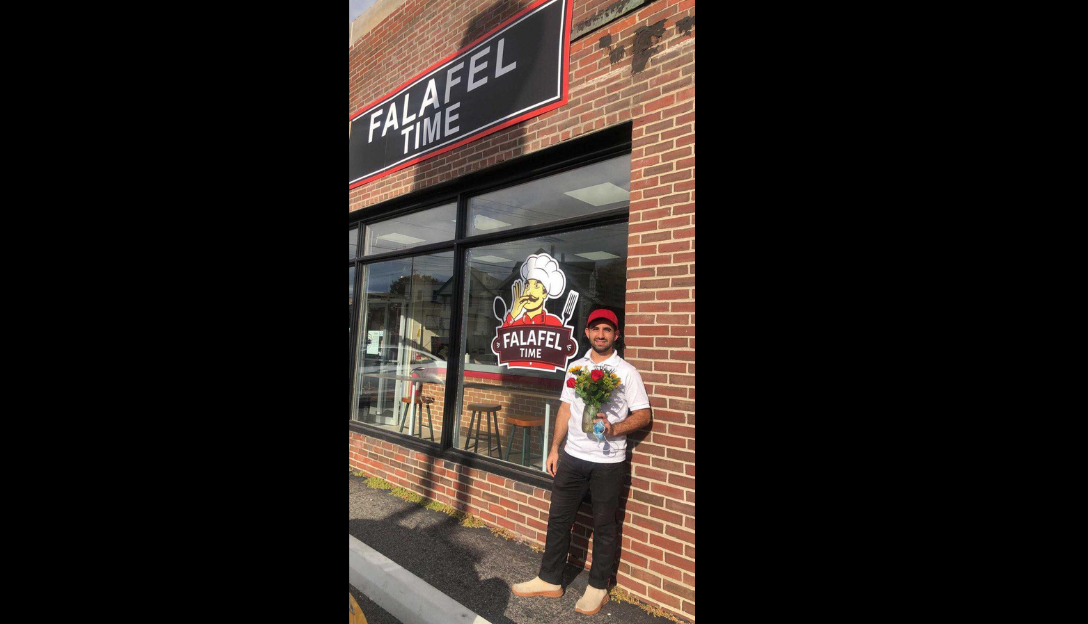 YOUTH BIPOC SPOTLIGHT: Qutaiba Hassoon, One of Forest Ave's Newest Restaurant Owners
By Setareh Jalali
This is part of our Youth BIPOC Spotlight series that highlights young people doing cool things in the community. Check back weekly for more installments in the series. 
Portland is a city of food, full of gourmet bistros and lowkey pizza joints alike that now attract foodie tourists from around the globe. As more and more restaurants open across the city, it seems an increasing amount are opened by young people.  
One such place is Falafel Time on Forest Avenue, owned and operated by 25-year-old Qutaiba Hassoon alongside his father Saeed. The restaurant serves up well-priced Iraqi and Middle Eastern foods like hearty kebab sandwiches and chickpea-based falafel, as well as some featured American staples like pizza and cheeseburgers.  
Since their opening in October 2021, the restaurant has seen a steady flow of customers and Qutaiba, known by Q to his friends, says he's happy with the response so far.  
"I think a lot of people wanted us to open and were waiting a long time for us to open because we took four months of renovating, so a lot of people were passing by and were wondering 'Oh, what is this gonna be,'" Q said. "So first day from the get-go, a lot of people have come and just been like 'Hey, we're so glad you guys are around.'"  
When we spoke over Zoom after a 9-hour shift, Q was as lively as ever, answering questions with a thoroughness that made it hard to believe he had just been on his feet for a whole day. But that's just who he is, he'll tell you.  
"[In high school], I was one of the people who like, l would try to talk to a lot of people," Q said. "I was very social with immigrants, with Iraqi people, I would talk to all of them."  
His love for socializing is still clear when you talk to him; he's the type of person who asks you about your family and your job before you even have a chance to ask how he is.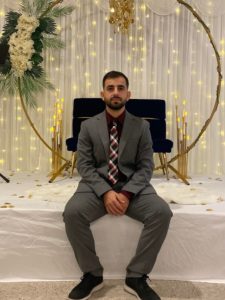 His friendly outgoing nature is certainly one reason he's been successful providing exemplary customer service at Falafel Time, though he said his degree in Marketing from the University of Southern Maine has also been a help to him.  
The Hassoon family are also no strangers to running a restaurant; Qutaiba's father Saeed owned a restaurant in Iraq before the family relocated, and later operated Haggerty's, a British-Indian restaurant in Portland from 2012-2014.  
Qutaiba was born and raised in Diyala, Iraq, a province Northeast of Baghdad and on the border with Iran. The Hassoon family fled in 2005 to escape not just the fallout from the U.S. invasion but also a civil war taking place in their hometown. The family first relocated to Jordan until they were offered the opportunity to come to the U.S. as refugees in 2008.  
After living in Atlanta, GA for a year, the family heard from friends that they were very happy in another little state near Canada called Maine. The family moved to Portland in 2009, where 12-year-old Q began school at Lincoln Middle School.  
"So like, obviously, I didn't like the cold, that's one thing," Q said. "But I made friends easy in middle school. I went to Lincoln, back then it was very diverse."  
Despite a diverse student population—he also went to Deering High School, the most diverse high school north of Boston—Q said he still struggled to figure out his identity as an Iraqi or an American.  
"Since high school I've always had this challenge of like… It's hard to fit between two cultures. Sometimes, I'll go to Iraq and I'm like, I don't 100% fit here. And then I'm here, and I'm not 100% still," Q said. "So even after 12, 13 years living here, you don't feel like you 100% fit in one place." 
Q said he had no idea what he wanted to do in high school—who does?—but he said he had ideas of opening a business of some sort, he just wasn't sure what kind.  
"To be honest, my dad gave me the idea [for Falafel Time], and I just took it on. So I helped him with the admin stuff, because he doesn't speak as much English," Q said. "I didn't take a long time to think about it because at that time I didn't have a consistent job. I was just like, doing different things." 
Qutaiba was living and working outside of Boston last winter, and between the COVID-19 pandemic and living in a new city with few connections, he said it was a challenging and isolating time. When his parents offered him to come home and open a restaurant together, it was an easy decision.  
Equally easy was the decision to open on Forest Ave. Packed with restaurants serving up cheap food from every corner of the world, ethnic food stores, and cars commuting to and from, the mostly off-peninsula street spanning from downtown Portland all the way to Riverton is thought to be one of the most diverse in the city. 
"It's a great location because it's busy and easy to see," Q said.  
Between 60-hour weeks and the harsh Maine wintertime, Qutaiba admitted it can be a struggle to balance work and having a social life. He joked that the only people he sees these days are his parents. 
"So like, I see them at work 10 hours a day, and then I come home, and I see them," Q laughed.  
He also talked about the struggles of working long hours and waiting for such a big investment to eventually pay off.
"One thing that I realized is that as a young person, you have to know you're not going to get paid right away from a restaurant, you have to be patient. Yes, there's sales as people come in to buy your food, but there's also expenses. So you have to balance that. It's a long-term investment."  
Despite the challenges, Q highlighted the benefits of working with his family and having their support. He admitted early on in our conversation that he wouldn't be operating the restaurant without them.  
"I know I'm a stubborn guy, I know this for sure. I like to do my own thing. But I also try to learn from [my parents] as much as I can," Q said. "My dad, he's kind of like my mentor. I don't tell him this, but like, I should tell him. I look up to him a lot… He cares a lot about the food, about the restaurant, about everything. He wants me to run this place if he ever leaves. So that's why he's sometimes hard on me, just making sure if he's not there that I'm doing the same things he would be doing."  
In a digital world where you can look up just about any recipe online, the value of authentic family recipes is as important as ever. The family are creating food with recipes that come from a long lineage of Hassoon's.  
"One thing I'll tell you, if it's a family business, you know they care about the food," Q said. "My dad and my mom, they put a lot of effort into the food, so when a customer gets food, they're getting good quality food that's coming homemade." 
Q says he's happy running the restaurant right now and making sure that it stays consistent while they get on their feet, but he has dreams of getting into real estate in the future.  
"You know how you see some like rich, young millionaires," Q asks between laughs. "I don't want to be a millionaire but, you know, I want to have the freedom of money. Like where I don't have to be working every day, eight hours a day, 60 hours a week."  
Despite the challenges he's faced, Q made it clear that he has no regrets in making this move at his age.  
"I definitely encourage people to do it. I know like I talked about the challenges of like opening a restaurant but I'm glad I did it now than if I did it when I was like 30 or 40. Like I know I'm gonna learn a lot now, I'm glad I went through all these challenges."  
Falafel Time is located at 1053 Forest Ave, Portland, ME and is open every day except Tuesday from 12pm-8pm.