Public artwork in support of refugees coming to Portland next week
On Aug. 4 and 5, one of the most innovative and ambitious public artworks will bring its beauty to Maine with Remote Theatre Project's "A Message from Far Away."  
The events, spread over two days, are a collaboration with Good Change Theatre's "The Walk," a 4-month travelling festival of art and hope in support of refugees around the world. The Walk features Little Amal, a 12-foot-tall puppet of a young refugee girl who leaves her Syrian hometown in search of her mother. Amal and her handlers are travelling over 8,000 km to spread the humanitarian message, "Don't forget about us."  
In partnership with Creative Portland, Mayo Street Arts, The Greater Portland Immigrant Welcome Center, and Portland Ovations, RTP will host three public events in Portland next week, including a free concert and a parade featuring 12-foot live-feed video screens that will allow Amal to interact with the crowd.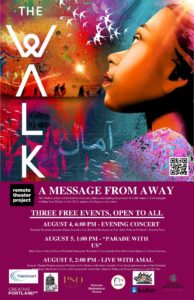 On Aug. 4 at 6pm, join a free concert with Syrian composer Kinan Azmeh's City Band at the Bandstand at Fort Allen Park on Portland's Eastern Promenade. Azmeh, a Syrian refugee himself, is a critically acclaimed NYC-based clarinetist who has performed at Carnegie and Royal Albert Halls.  
At 12:30 on Aug. 5, "Parade with Us," sponsored by IWC and MSA, will begin at Monument Square and end at Ocean Gateway. The parade is open to all who would like to participate. The end of the parade will feature a free performance from Pihcintu Chorus, accompanied by members of the Portland Symphony Orchestra and Kinan Azmeh's City Band.  
There will also be live readings of letters written by teenage New Mainers. According to Good Change Theatre's website, the participants had the opportunity to work on their monologues via Zoom with Mudar Alhaggi, a Syrian refugee based in Berlin.